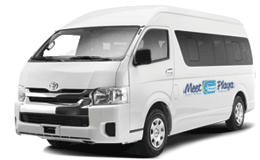 If you have an inquiry that isn't listed below, please get in touch or chat with us.
How far in advance should I book the transfer service?
For us, it's very important to provide you with the best possible service, for that reason, we suggest you to book your transfer service at least 24 hours before your flight or trip.
If you need to do a "last minute" booking, with about just 3-6 hours before you arrival to Cancun, please contact us directly to our email: meetplaya@gmail.com or if you prefer, you can call or chat with us directly via WhatsApp: +52 (1) 984 -137-9922 or by using the chat service we have in the transfer booking page. Your "last minute Cancun Airport transfer" is 99.9% guaranteed.
How can I locate MeetPlaya Transfers on my arrival at the Cancun Airport?
When you arrive at the Cancun International Airport, it will take you approximately, from 20 minutes to 1 hour to do the immigration process and pick up your luggage.
Once you have passed the immigration process and claimed your luggage, you will walk through a hall for about 3-5 minutes, where you will see some kiosks on both sides with people who will offer you tours, tourist packages and taxi services. If you are not interested, please ignore them and continue walking to the end of that hall until you see the main glass door exit. When you cross this door and feel the hot Cancun weather, we'll be there waiting for you holding a pallet with the MeetPlaya name and logo along with the name you used to book your transfer service with us.
What happens if my flight is moved forward or delayed?
Every day, from very early in the morning, we arrive to the Cancun Airport and check constantly the flight status of our booked clients. So, don't worry, whether your flight is moved earlier or delayed, we'll be there waiting for you. We won't let you down and that's 100% guaranteed.
Can I drink liquor on board during my transfer trip?
Yes, you can! You will be able to pre-order it when filling out the booking form and we'll have it ready for you at your arrival at the Cancun Airport. Also, feel free to request us a 10-minutes stop at any gas station or liquor store during your transfer trip. We have welcome packages too! Would you like to know what do they include?
How safe is our stay in Cancun and the Riviera Maya?
Making you feel safe and comfortable, as if you were at home, is one of the top priorities for us and the Cancun, Quintana Roo, government. We can assure you that you'll feel safe while enjoying the beauty and magic of all the places and tourist attractions that the Riviera Maya has to offer you.
How far is...?
...my hotel in the Cancun Hotels Area from the Airport? About 20-30 minutes.
...my hotel in Puerto Morelos from the Cancun Airport? About 20-25 minutes.
...my hotel in Playa del Carmen from the Cancun Airport? About 45-55 minutes.
...my hotel in Tulum from the Cancun Airport? About 1-hour and 20/30 minutes.
...my hotel in Playa Mujeres from the Cancun Airport? About 30-35 minutes.
...my hotel in Playa Maroma from the Cancun Airport? About 35-40 minutes.
...my hotel in Akumal/Puerto Aventuras from the Cancun Airport? About an hour.
When returning back home, how early should I get to the Cancun Airport for the check-in?
The recommended arrival time at the Cancun Airport is 2 hours prior to your departure. Also, add the time it takes to transport you from the hotel to the Airport. So. we'll pick up with at least 3 hours before of your departure time.
Do you have or offer booster car seats for my kid(s)?
Yes, we do. At the end of the transfer booking process, you will see an "Add Extras" option where you can select the quantity of booster car seats you need for your transfer. Just keep in mind this is an extra service that will have an extra cost per seat.
It should be mentioned that all our vehicles have comfortable seats with seatbelts. We can assure you that you and your family will be very safe with us during the route to your destination. Your safety is our top priority.
What kind of vehicles do you use to provide the service?
We have newer Toyota Hiace minivans year 2015-2016-2017, designed to transport up to 10 people comfortably. All our vehicles have AC, ample seats with safety belts, audio system to listen the music of your preference, 15" TVs so you can enjoy a movie if the transfer service to your destiny takes more than an hour. In addition, our drivers have federal driver license, they are professional and specially trained to inform you about any question you have about the area and the best tourist attraction the Riviera Maya has to offer to its visitors. All our vehicles are covered by insurance for the peace of mind of our passengers.
What are my payment options for the shuttle service?
The most common payment method for these private transportation services is cash (US dollars preferably). You can pay to the driver on board during the ride or when you get to your hotel, resort or destination.
You can also use Canadian dollars, just multiply the value of the transfer service by 1,25. For example, if your destination is Playa del Carmen, whose transfer service cost is $60 dollars (1-5 passengers), in Canadian dollars, it would be $75.
You can also Pay In Advance At Your Convenience using your PayPal account. Once you have booked with us, we'll send you a PayPal Invoice to your booking email for the total amount of your service and you'll have the choice of paying in advance whenever you think it's more convenient for you, for example, tomorrow, next week or the day before your arrival. If you decide to not pay in advance using PayPal, you will still have the alternative of paying in cash once the service is completed at your destination.